Liverpool (transfer)


Leaflet, poster and advert (March 2007)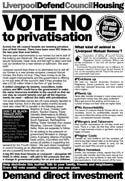 Brighton & Hove (transfer)


Newspaper (Jan 2007)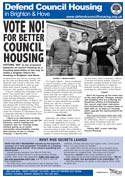 Edinburgh (transfer)


newspaper (Nov 2005)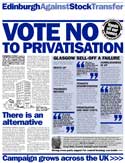 Waverley (transfer)


leaflet (Oct 2005)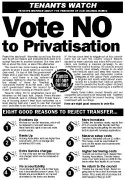 Sedgefield (transfer)


Newspaper (Feb 2005)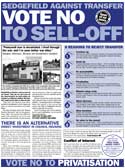 Clapham Park (transfer)


A3 leaflet (Feb 2005)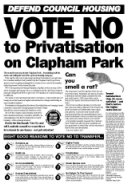 Ellesmere Port (transfer)


Newspaper (Feb 2005)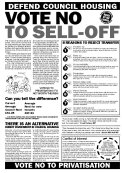 Wrexham adverts (transfer)



1st advert



2nd advert



3rd advert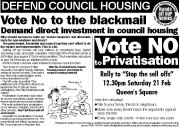 4th advert

Stockport (transfer)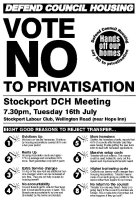 DCH local leaflet

Tower Hamlets (transfer)


Ocean Estate (Oct 2005)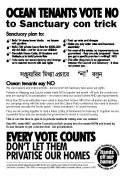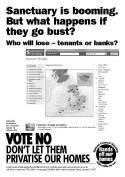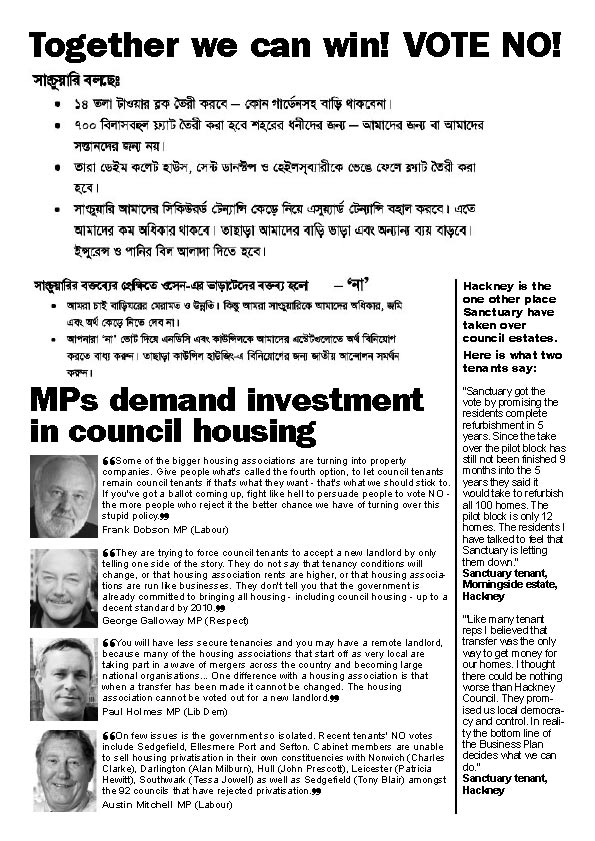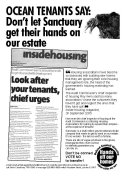 Leopold Estate (Feb 2005)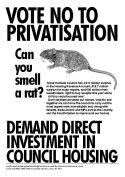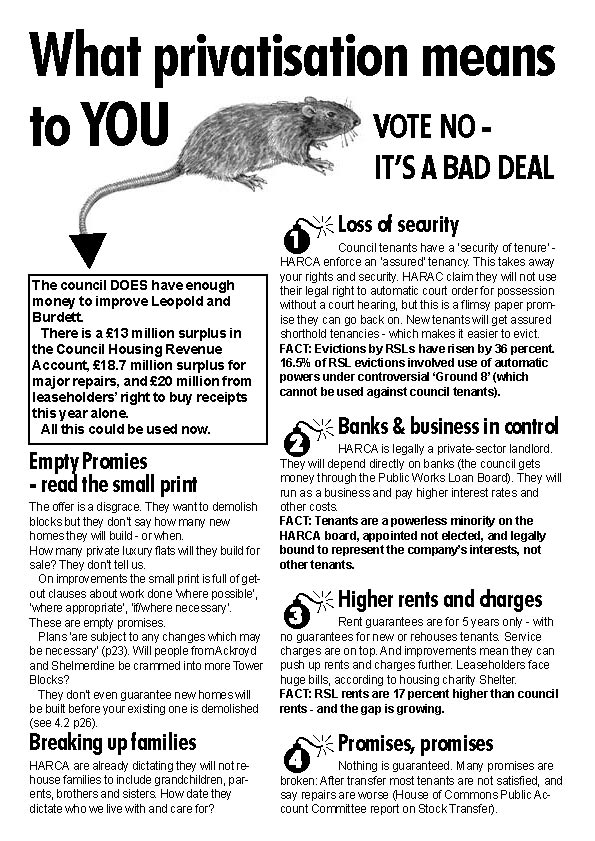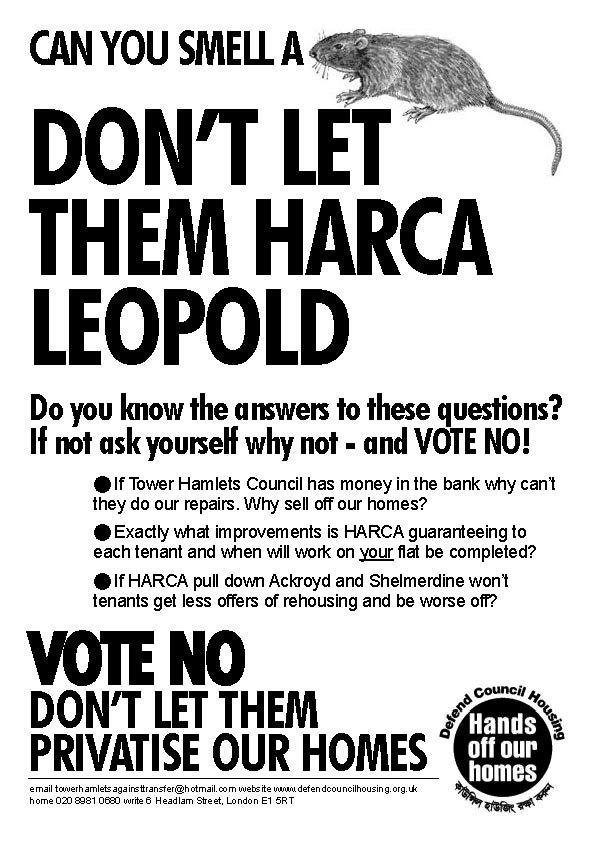 10 THINGS THEY DON'T TELL YOU ABOUT HARCA leaflet used on the doorstep during campaign


HARCA Campaign Summary - month by month account of what the campaign did...
Camden 2007/8


Demanding direct investment against partial 'regeneration'
Four page newspaper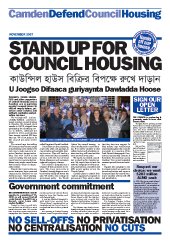 Open letter signed by tenants reps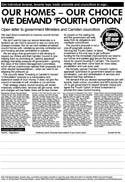 Posters up on estates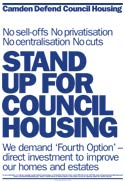 Camden (ALMO)


'No to ALMOs' T shirts, stickers and balloons available!


2nd 4 page Broadsheet (Nov 2003).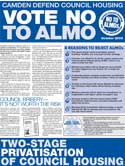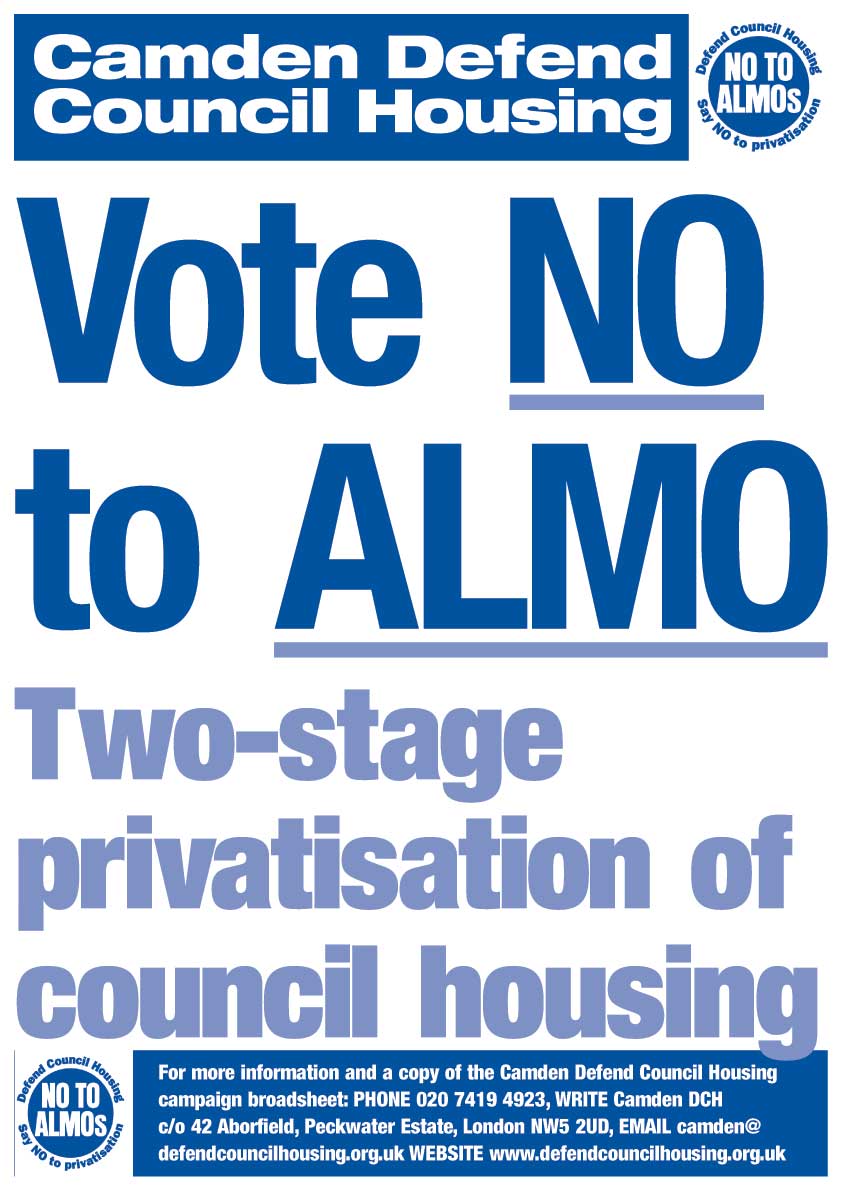 Poster Vote No to ALMO two-stage privatisation(Sept 2003).


Leaflet Vote No to ALMO general arguments (Sept 2003).


Postcards to councillors and MPs (Sept 2003).


Tenants' statement Tenants demand fair and balanced debate (June 2003).


No to Shadow Board Poster urging tenants not to vote for Shadow Board (July 2003).


Local support Signatories to above statement (June 2003).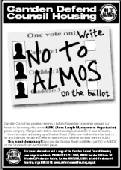 ALMO Briefing A3 Briefing for TA reps (April 2003).


4 page broadsheet front and

back 35,000 copies being distributed to every home (June 2003). low res files

1,

2,

3,

4,

5

Leaflet against proposed ALMO Camden DCH first leaflet responding to council proposals to investigate ALMOs.


To the Editor Using letters page of local paper to report on successful first meeting of the Camden DCH campaign


Letter to TAs Making sure the campaign was open, democratic and accountable from the start


Warning to candidates in 1998 local election First example of getting lots of TA reps to sign up publically to campaign statement


Open letter welcoming climbdown This letter was submitted to the Council's own Housing News as our response to the Labour Group's decision, just before local elections, to back off transfer. They never printed the letter but were forced to mention that 40+ TA reps had signed a letter


No demolition Open letter to local press signed by TA reps


Anti demolition leaflet Text version of TA leaflet against demolition proposals


Resolution against PFI scheme Case against PFI and using council consultative forum as one part of the campaign strategy

Haringey (ALMO)


Newspaper against ALMO (Feb 2005)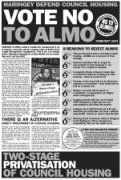 Southend (ALMO)


Leaflet against ALMO October 2004
Posters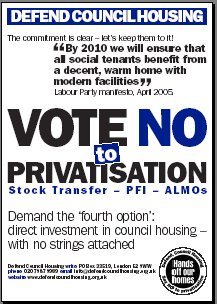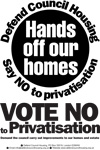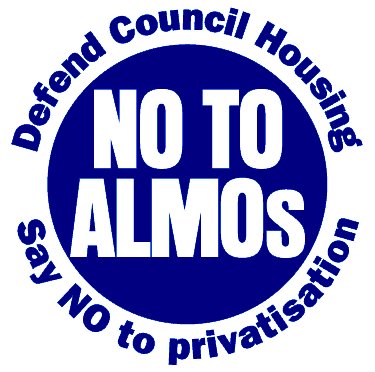 Hackney's post transfer experience


Useful Hackney stories and quotes
Cambridge Tenants Against Privatisation (CTAP) Various Window Posters...


1 DON'T LET THEM CON YOU INTO THINKING THEY KNOW WHAT THEY ARE DOING!!! STICK WITH THE COUNCIL VOTE NO !!! TO HOUSING TRANSFER


2 DON'T KNOW? THEN VOTE NO!!! TO THE HOUSING TRANSFER THERE IS NO RETURN TO THE COUNCIL


3 DON'T BE A TURKEY VOTING FOR CHRISTMAS VOTE NO!!! TO HOUSING SELL OFF


4 OUR HOMES ARE NOT FOR SALE VOTE NO TO HOUSING SELL OFF !!!