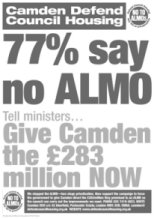 Tenants in Camden, central London, have dealt a major blow to the government's strategy to privatise council housing voting by an overwhelming 77% against the council setting up an ALMO (9th Jan)


Now we are fighting to get the £283million available to the ALMO to be given to the council direct.


There's lots to read - we hope you find it useful. If you need help email Camden DCH at camden@defendcouncilhousing.org.uk. Camden council's website for ballot details and council response and Guardian interview with Dame Roberts, Guardian 9 Jan, Guardian 11 Jan, Inside Housing and Housing Today reports.


Read more about Camden DCH campaign below and download campaign material (right). Register on the website to get campaign briefings by email.
In 1997 Camden Council tried to push through stock transfer - they called it 'New Opportunities'. Camden DCH was formed to fight the proposed selloff and forced the council to back down in February 1998. In late 2002 the council started to promote setting up an ALMO. Camden DCH was revitalised and tenants reps, trade unionists and other campaigners came together to mount a campaign against ALMOs and for direct investment.
Camden tenants have rejected ALMO as a two-stage strategy to privatise council housing. Camden DCH is now demanding an urgent meeting with Housing Minister Keith Hill (view letter) to argue the £283 million earmarked for the ALMO should now be given to the council direct. The campaign has launched a new statement and is asking tenants and union reps along with councillors and other local representatives to sign in support.
The council had previously promised to conduct a fair and balanced debate but broke this commitment and resorted to the usual glossy pro ALMO propoganda campaign. Although massively out-resourced Camden DCH produced a number of broadsheets which were distributed on estates and handed out on streets stalls, to parents collecting kids at local schools and outside mosques and churches.


The lack of a fair debate and the loaded ballot question was challenged in the High Court. The challenge failed with the judge ruling there is no obligation on councils to put both sides of the argument.


But despite the council sending weekly glossy mailshots to every home tenants rejected two-stage privatisation.


This is the first time an ALMO has faced serious opposition and shows the government's two-stage strategy can also be beaten off.


Tenants will be demanding that the £283 million on offer to a Camden ALMO now be given to the council direct and will expect councillors to genuinely throw their weight behind this demand.


We will also call on the Minister to stand by his commitment to tenants receiving 'equal information about the pros and cons of the various options' by introducing a legal requirement on councils to conduct a balanced debate and a mandatory ballot.
Camden DCH had a

public meeting on Feb 10th in Camden Town Hall with a platform including Frank Dobson MP, Jane Roberts (Leader of Camden Council) and Alan Walter (Defend Council Housing).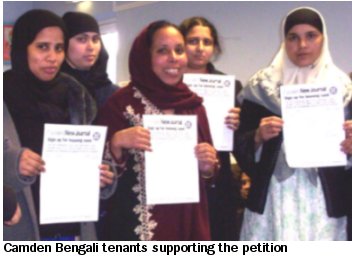 Support for a petition calling on government to give Camden the £283m offered to the ALMO includes councillors from all parties along with Frank Dobson MP. Tenants are signing up on estates, community centres and high streets stalls.
See the Camden council website for ballot details and council response and Guardian interview with Camden Leader, Dame Roberts. Inside Housing (Chartered Institute of Housing's magazine, Jan 16) has a front page Hill offers hope to councils and three more pages of reports, interview and editorial. Guardian 9 Jan. Guardian 11 Jan, Inside Housing and Housing Today reports as well as Paul Foot on 'Remember the ALMO'. Read more about Camden DCH campaign, download campaign material and view Webcast of DCH deputation to Council Executive (go to Archive for Jan 14 and 8x15 sec into meeting).
Wendy Jarvis, head of local authority housing finance at the ODPM, interviewed by Inside Housing magazine on June 13th 2003 said on the future for ALMOs
"The housing association model is an obvious one to look at and we are looking at it... Our view has to be that it stays within the Whitehall familiy until we have formulated our views and particularly that the Treasury is comfortable. Then we will go out to our relevant private sector partners."
'No to ALMOs' T shirts, stickers and balloons available!

Jan campaign statement,

Letter to Keith Hill.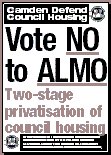 2nd 4 page Broadsheet (Nov 2003).


Poster Vote No to ALMO two-stage privatisation(Sept 2003).


Leaflet Vote No to ALMO general arguments (Sept 2003).


Postcards to councillors and MPs (Sept 2003).


Tenants' statement Tenants demand fair and balanced debate (June 2003).


No to Shadow Board Poster urging tenants not to vote for Shadow Board (July 2003).


Local support Signatories to above statement (June 2003).


ALMO Briefing A3 Briefing for TA reps (April 2003).


4 page broadsheet front and

back 35,000 copies being distributed to every home (June 2003). low res files

1,

2,

3,

4,

5

Leaflet against proposed ALMO Camden DCH first leaflet responding to council proposals to investigate ALMOs.


To the Editor Using letters page of local paper to report on successful first meeting of the Camden DCH campaign


Letter to TAs Making sure the campaign was open, democratic and accountable from the start


Warning to candidates in 1998 local election First example of getting lots of TA reps to sign up publically to campaign statement


Open letter welcoming climbdown This letter was submitted to the Council's own Housing News as our response to the Labour Group's decision, just before local elections, to back off transfer. They never printed the letter but were forced to mention that 40+ TA reps had signed a letter


No demolition Open letter to local press signed by TA reps


Anti demolition leaflet Text version of TA leaflet against demolition proposals


Resolution against PFI scheme Case against PFI and using council consultative forum as one part of the campaign strategy