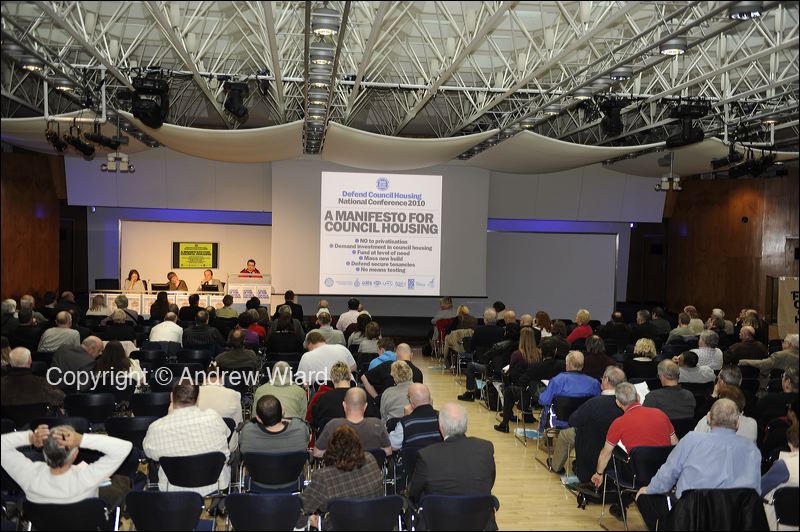 250 council tenants, councillors and trade union delegates from 59 local authorities joined housing professionals, academics and MPs attending the DCH national conference at TUC Congress House in London on March 12, 2010. If you attended please let us know what you thought of the event.


Read policy statement and quotes from platform speakers below. We are hoping to transcribe as many of the speakers as possible when we can...
---

Austin Mitchell MP, chair, House of Commons Council Housing group opened the conference.


Government says it has housing at its heart, he said, but "it needs a heart transplant, to move the heart nearer to the brain".


---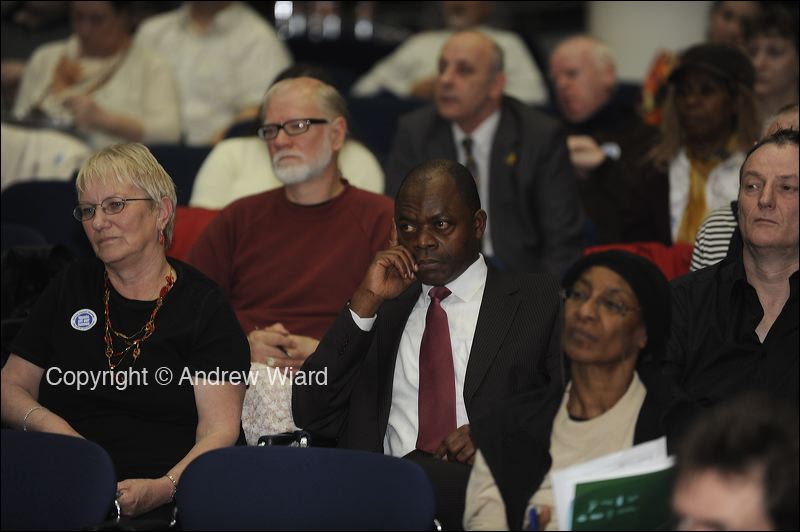 Linda McNeill, chair of the Leeds Federation of Tenants, said:

"we mustn't tolerate any watering down of our security of tenure, nor stand idly by and watch our homes demolished in the name of regeneration."


---

Jack Dromey, deputy general secretary of trade union UNITE , backed the Manifesto call for a mass programme of council housing building. He said:


"the best way to build our way out of recession is to build council houses."


---

Frank Dobson MP attacked housing associations and councils who sell off housing. In his own area Camden council is selling at auction homes he bought up, as Council leader.


---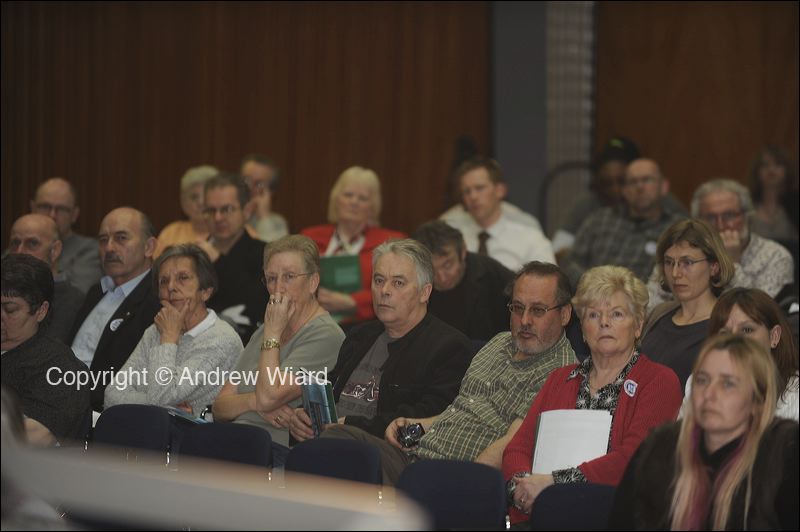 Alan Rickman, Winchester Tenants and Council Together, told conference:


"now is not the time to let this government or any future government off the hook" on council housing.


---

Simon Hughes MP (Lib Dem) promised that his party would put


"a significant amount of public money into building and repairing homes"
---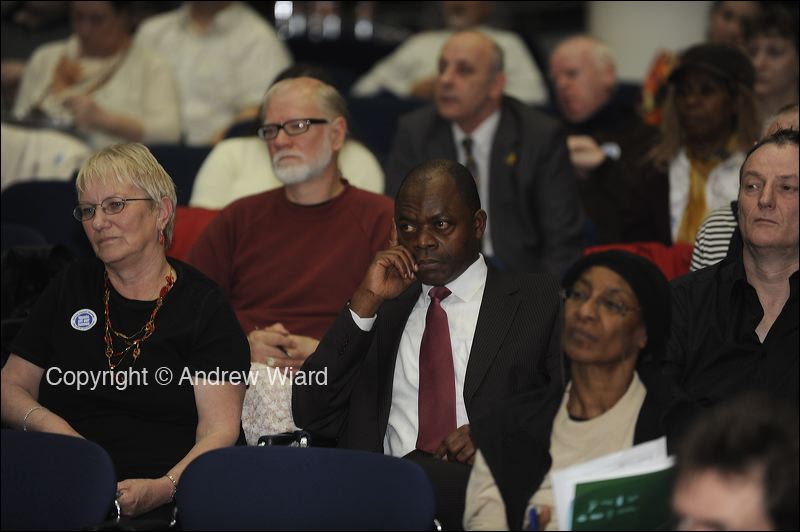 Cllr Deborah Edwards, Lead member for Housing, Reading council said:


"We need to keep our own council housing and we need the money for it."
---

Eileen Short, DCH chair:

"Support for council housing is growing and broadening, as the conference showed. We have forced government to shift policy. Now we will step up the campaigns against privatisation and demand that any politician who wants our votes pledges in writing their support for our Manifesto."
---


See also reports of DCH conferences in:


2000


2002


2003


2004


2006


2007


2008
Conference Papers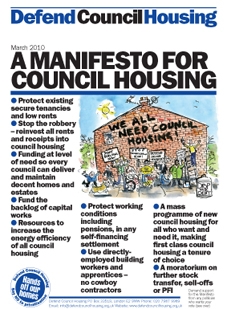 Self-financing questions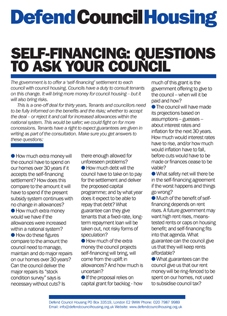 Policy statement



Prof. Peter Ambrose: "Discovering the True Meaning of Affordable Housing"



John Grayson: "Rebuilding a Tenants Movement" and "Defend Security of Tenure"



Dr. Stuart Hodkinson: "Council Housing Regeneration and the Private Finance Initiative: an overview"

Conference slides


Steve Partridge, housing finance expert: HRA Reform Finance Workshop



David Gibson, moonlight robbery campaign: [title]



Deborah Garvie, SHELTER: The New Homes We Need



Paul O'Brien, APSE: [title]

Attendees came from the following local authority areas:
Barnet
Bassetlaw
Bolsover
Bolton
Bristol
Bromley
Cambridge
Camden
Colchester
Cornwall
Corporation of London
Doncaster
Dover
Dundee
Durham
Ealing
Edinburgh
Falkirk
Flintshire
Glasgow
Hackney
Hammersmith & Fulham
Haringey
Harlow
Harrow
Horsham
Islington
Kensington & Chelsea
Lambeth
Leeds
Lewes
Lewisham
Lincoln
Melton
Mid Devon
Milton Keynes
NE Derbyshire
Newcastle-upon-Tyne
South Norfolk
Plymouth
Reading
Rhondda Cynon Taf
Richmond
Rochdale
Sheffield
Slough
South Cambridgeshire
South Norfolk
Southampton
Southwark
St Helens
Swindon
Taunton Deane
Tower Hamlets
Waltham Forest
Waverley
Westminster
Winchester
Wycombe

In the afternoon, delegates split into six workshops.
Deborah Garvie, from SHELTER, Paul O'Brien from the Association of Public Service Excellence (APSE), and Cllr Deborah Edwards, Lead Member for Housing from Reading council, discussed the 'New Homes We Need'.
Paul Burnham, a tenant involved in Haringey DCH, and John McLoughlin, from Tower Hamlets UNISON, led off a discussion on the 'Future of ALMOs'
John Marais, Cambridge tenant and Dave Kelleway, a tenant from the recent successful South Cambs Against Transfer campaign, put the case against stock transfer
Tenant campaigners Pat Rowe from Taunton and Mick Patrick from Harlow introduced 'Effective United Campaigning'
John Grayson from Sheffield Hallam University, and Leeds Tenants Federation, talked about the independent tenants movement and defending security of tenure.
Steve Hack, Lambeth tenant, and Stuart Hodkinson, from the University of Leeds, put the case against PFI