17 Constituency Parties submitted motions supporting the 'Fourth Option' that finally got onto the agenda dominating the housing debate and forcing movement in the right direction from Housing Minister Yvette Cooper - but not yet nearly enough (DCH responds to Labour's housing debate).


Frustration is mounting after three consecutive conferences have backed the 'Fourth Option' demands. There's plenty of 'warm words' but we're all still waiting for specific new policies. As Austin Mitchell MP put it "We haven't fought this long and hard and come this far to be fobbed off now."


After attempts to rule motions supporting the 'Fourth Option' out of order there ended up being two Composite motions on the 2007 conference agenda. Several paragraphs of the DCH model motion (Composite 6) were then also incorporated into Composite 7. But officials refused to include the eighth paragraph of Composite 6 ('Fourth Option' DCH motion) which defines the housing finance changes to provide the 'Fourth Option'.


As Austin's statement explains they also used a sleight of hand to try and fudge the discussion by referring to 'social' rather than 'council housing in key paragraphs.


Also see the DCH conference bulletin and Pre conference Labour grassroots ready to fight for security of tenure and post conference analysis from Party urged to hand freedoms to landlord councils and 24Dash and Inside Housing blog.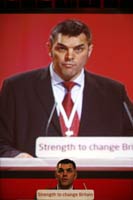 "John Caller, Gravesham CLP moving Housing Composite 6 ('Fourth Option' DCH motion)


Good morning conference


This issue is so important to me because I was born in a council house. That house is in the ward I now represent as councillor.


In November last year in Gravesham we balloted our tenants for a stock transfer. On a 70% turnout Gravesham residents voted overwhelmingly against that stock transfer.


As their council we listened when 86% of those tenants voted to stay with the council. We listened when they told us they wanted to be represented by democratically elected councillors. And we promised to stand up for them and fulfil our obligations to them and bring their wishes here so the people of Gravesham could be heard.


We say: council housing, council housing, council housing.


Conference for three years running has voted in favour of the 'Fourth Option' for council housing. Since then government has produced a Green Paper and we welcome the £8 billion investment for affordable and social housing as a huge step in the right direction.


But our motion specifically calls for a level playing field to become a reality for council housing.


The reason we have insisted on Composite 6, and what is lost in Composite 7 is to re-affirm the decisions of the last three conferences.


That is:


To enable local authorities to improve all existing council homes and estates;


Allow local authorities to start a new council house building programme;


And to ensure that councils have sufficient revenue to maintain their homes in the future.


This year 17 CLPs submitted contemporary motions in support of council housing. This shows clearly there is nationwide support.


We believe that the 3 million existing council tenants are entitled to keep the council as their landlord and to get improvements to their homes as we agreed at conference last year.


It is also wrong to suggest a policy that allows investment in our council housing could destabilise the economy.


The amount required to meet the government's Decent Homes manifesto commitment is much less than the £12 billion represented to conference last year.


Council housing has generated over £50 billion pounds for government.


Councils need the housing finance regime changed so they can maintain their homes as first class council housing for years to come.


200 Local Authorities would directly benefit from these changes to housing finance. We need more council houses especially in Gravesham because the price of home ownership in the south east is far too expensive and out of reach of many of the people who live there.


Tenants in Gravesham aren't concerned with slogans promoting the 'Fourth Option', call it what you like. It is the substance in it we want and support.


We also don't care about all the politics around the housing issue. What we are about are the people in inadequate and poor quality accommodation, and the pressure it puts on them and their families.


I would like my two daughters when they leave home to live locally to my wife and me in Gravesham. If their chosen career doesn't pay enough to allow them to afford to buy, they will need decent, affordable, secure and accountable housing the future too.


I hope the decisions we taken now are the right ones for all our young people. And we again can trust our councils to deliver accommodation we deserve and can afford.


For all the tenants in Gravesham, for the 3 million in council housing and the 1.6 million on a list I move Composite 6."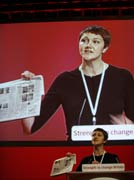 Anna-Helga Horrox seconding Composite 6 ('Fourth Option' DCH motion)
"I'm Anna-Helga Horrox, a delegate for Holborn & St Pancras CLP, seconding the motion. This is my first conference as a delegate, and my first speech, so please bear with me.


We have fought really hard to keep this fourth option motion on the agenda at conference, and not submit to the government composite, and I'd just like to explain why.


Access to decent, affordable, secure housing is one of the most pressing national issues we currently face.


There are one point six million people on council housing waiting lists across the country. Over the past six years alone, waiting lists in London have more than doubled.


Not only is this an outrage in terms of the families being forced to bring up their children in substandard accommodation, the individuals who are suffering at the hands of exploitative landlords - but the shortfall creates a space in which extremist political parties can scaremonger and build support.


We hear the housing minister supporting council housing for the first time in years, and we sincerely welcome this as a real shift in policy.


But more needs to be done.


Why do I, as a delegate from Holborn & St Pancras, care particularly about this issue?


My borough of Camden was rated an excellent council after 35 years of Labour control.


That's why tenants voted to keep the council as their landlord, and in 2004 overwhelmingly rejected an ALMO.


Following that, the council was starved of access to housing maintenance money.


In the local elections last May, we lost control to a Tory / Lib Dem coalition. Our housing situation wasn't the only reason for this, but it was certainly one of them.


The Tories and Lib Dems have since been able to use Labour Party policy as a political stick to beat us with locally.


And, as the Camden New Journal reported last week, they're using it as an excuse to sell off homes in the borough, homes which will be forever lost to future generations of council tenants.


All this motion asks for is a level playing field between councils and housing associations.


Why should excellent councils not be able to access direct investment for housing without signing up to unwanted and unnecessary ALMOs?


It is a popular position, it is a Labour position, and it is the right position to hold.


We believe that this option, the fourth option, is an absolutely fair and legitimate one. We respectfully submit this motion for conference's consideration. Thank you."
2006 report and terms of Composite 10
2005 report
2004 report
---
Extracts from speaches...
"What we have made clear is that we have to get all areas to that decent homes standard… it is unacceptable that tenants have homes that don't meet modern standards…" Yvette Cooper
"We have been looking in the sub group at ways of getting a level playing field... And we are piloting ways of getting a more level playing field but we have got to get it right." Yvette Cooper
"We will work with other councils to use flexibilities within the green paper… working within proper budget limits…" Yvette Cooper
"new flexibilities including prudential borrowing.. if there are councils who are not sufficiently using those flexibilities then … we are obviously happy to work with councils… our assessment is that we have all bar one councils that will meet that standard… " Yvette Cooper
"It is time for councils to be able to build new council housing again too." Yvette Cooper
"Composite 7 doesn't set out to undermine the case for council housing" Kevin Wilson, Leader Milton Keynes Labour Group (moving Composite 7)
"Council can and will make a vital contribution" Kevin Wilson, Leader Milton Keynes Labour Group
80 delegates attended the DCH fringe meeting (competing against nearly 20 other meetings) to hear Austin Mitchell MP (apologies Frank Dobson MP and Jon Cruddas MP) along with Alan Walter, DCH chair; Mary Turner, GMB President; Heather Wakefield, UNISON National Secretary; Wilf Flynn, UCATT Executive; Paul O'Brien, chief execu APSE and Jack Dromey, UNITE Deputy General Secretary.


The overwhelming majority of delegates were from Constituency Parties with a large number of councillors and tenants activists amongst them. Discussion ranged from how to oppose councils proposing stock transfers, uniting campaign supporters in retaining authorities and those with ALMOs and tactics at the conference.