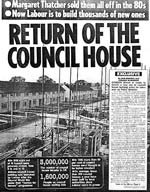 Articles in the national press report that Gordon Brown intends to build a new generation of council homes (see Press Archive).

It's an encouraging development, we've got the government's attention, so now we need to step up the pressure to turn sound bites into concrete proposals that will provide the 'Fourth Option' to:
Enable local authorities to improve all existing council homes and estates
Support local authorities start a new council house building programme
Ensure that local authorities have sufficient revenue to maintain all council homes in future years
Book now to attend the DCH national conference on July 12 to help refine the detail of our demands and organise to kill off any attack on our lifelong secure tenancies or introduce means testing. We want to recreate council housing as decent, affordable, secure and accountable housing that all can be proud to live in - not a stigmatised transit camp for only the most desperate.

Defend Council Housing has posted a 'Fourth Option' for council housing
e-petition
on the Downing Street website.
Please forward on this email to help collect signatures
It's clear that housing was a major issue in the elections last week and it promises to have a high profile in the forthcoming Labour Leadership and Deputy Leadership elections. A new You.Gov poll put housing top of the agenda for Labour Party members with 'An overwhelming 82% believe "funding should be available to local councils to build low-cost council housing on the same basis as housing associations".' (Guardian 9 May Labour members see housing and education as priorities - poll)
Please help the campaign:
Help campaign against any stock transfer, PFI, ALMO or sales of homes in your area
Organise a delegation of tenants, councillors and trade unionists to attend the DCH national conference on July 12
Order and distribute campaign material in your organisation and area (new DCH newspaper and 'Case for Council Housing in 21st Century Britain' pamphlet)
Sign the e-petition and encourage others to sign too
Ask your MP to sign EDM 136 Funding Decent Council Housing and join the Council Housing group of MPs at Parliament
Put DCH's Ten Questions to all candidates in the Labour leadership election
Distribute campaign material at tenants and union conferences and other events (email to get material posted to you)
Organise a Stand Up For Council Housing public meeting in your area with a broad platform to support the demand for the 'Fourth Option'
Ask candidates to sign up to DCH's Ten Questions
DCH has produced
'Ten Questions to Candidates'
for those standing in the Labour Party leadership elections. Circulate the questions to everyone who has a vote and distribute at any hustings meetings.
DCH is holding a national conference, July 12 at TUC Congress House, London
Download conference
Flyer & Programme
, circulate locally and organise a delegation of tenants, trade unionists and councillors from your area to attend. Propose to your council that they sponsor the delegation - they always say they want tenants to be well informed and regularly fund tenants to attend other 'similar' events (individual tenants £5; sponsored tenants, trade unionists, councillors, etc £20)
Further information from www.defendcouncilhousing.org.uk