Demand for investment in council housing goes deeper and gets even broader

Important organisations representing local authorities and housing professionals have called on government to stop robbing money from tenants rents to fund investment in council housing. "My rent went to Whitehall" was launched by the Local Government Association at its conference last Wednesday. The paper is supported by the Chartered Institute of Housing (CIH), Chartered Institute of Public Finance Accountants (CIPFA), Association of Retained Council Housing (ARCH), National Federation of ALMOs and Councils with ALMOs Group (CWAG). See below (and DCH website) for extracts...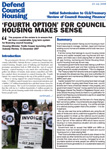 DCH has responded to the LGA statement by updating our draft submission to the government's review. Take part in a briefing and discussion on July 14 at Parliament (6-8pm, Grimond Room, Portcullis House). or email your comments in advance. Housing Minister Yvette Cooper promised last December the review would "ensure that we have a sustainable, long term system for financing council housing" and "consider evidence about the need to spend on management, maintenance and repairs". Help hold government to the promise - and make sure there are no unacceptable strings attached!
Circulate the DCH draft submision and encourage tenant, trade union and political groups to make their own submissions or tell the review group you support the DCH position (email hrareview@communities.gsi.gov.uk and post submissions to 'Review of Council Housing Finance Team', Communities and Local Government, 1/B1, Bressenden Place, London SW1E 5DU and send DCH a copy).

What next: national conference and lobby of Parliament?
DCH is consulting tenants, trade unions, councillors and MPs with a view to organising a national conference and lobby of Parliament to step up the pressure to secure the 'Fourth Option'. What do you think?

Labour's 'Partnership in Power' policy consultation
Unofficial reports suggest that some 30 Constituency Labour Parties submitted amendments promoted by DCH to the Labour Party 'Partnership in Power' policy consultation. Help lobby members of the Labour Party National Policy Forum (including affiliated trade unions) to support these amendments at the National Policy Forum at the end of July.

Affiliate/re-affiliate and donate to DCH
Defend Council Housing struggles without proper resources to run the campaign. We desperately need funds to employ a worker and run an office to support local campaign and co-ordinate national initiatives.
Please make sure your organisation affiliates each year to DCH at local, regional and national level; propose a substantial donation; subscribe to mailings and order the DCH pamphlet 'Dear Gordon 2' (£1.50 for bulk orders) for tenants and union reps, councillors and others in your area.

Extracts from 'My rent went to Whitehall'
The LGA paper recognises "that the major repairs allowance is inadequate to cover costs of future major works. Management and maintenance allowances are also insufficient to sustain the stock and provide the services that tenants need..." and "called for local authorities to be able to maintain 100 per cent of capital receipts...", "the principle of a ring-fence extended to national level, with funds generated from HRA rents spent on improving council housing..." so that "councils and their tenants should have the same rights to self-determination as housing associations and their tenants and that they should have sufficient resources to enable them to manage their properties and their areas efficiently and effectively in perpetuity."
The paper is not without problems... Tenants will be concerned that breaking up the national HRA system leaves tenants exposed to changes to interest rate, inflation and other risks and could make it easier to privatise homes. See the DCH website for more analysis and CIH (Chartered Institute of Housing) website for review papers, 'narratives' and forum.