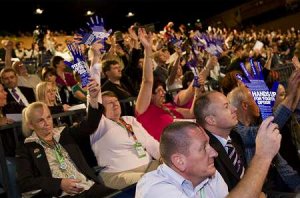 The Trade Union Congress gave unanimous support for the 'Fourth Option' at the beginning of September. UNITE and UNISON, Britain's two biggest unions both put motions, moved by their respective general secretaries, to back the campaign. Civil servants (PCS), firefighters (FBU), bulding workers (UCATT), council workers (GMB) and railway workers (TSSA) also spoke in support.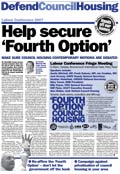 And the 'Fourth Option' had a high profile at the Labour Party conference (report) dominating the housing debate and securing more 'warm words' from Housing Minister Yvette Cooper. But as Austin Mitchell MP put it "We haven't fought this long and hard and come this far to be fobbed off now." (DCH responds to Labour's housing debate)
Two Composite motions were debated. Several paragraphs of the DCH model motion (which became Composite 6) were incorporated into an alternative less critical of government Composite 7. But even this "calls on government to give existing council tenants the right to choose to remain with their authority and get improvements to their homes and estates", "notes the success of campaigners to put council house building back on the political agenda" and agrees to "Provide a long term future and direct investment to council housing".
Contemporary Motions at the conference were referred to the Labour Parties new policy framework instead of being put to the vote. In the meantime we are advised that the existing policy (Composite 10, 2006 conference) including "Conference again calls on government to provide the 'Fourth Option' of direct investment to council housing as a matter of urgency" stands.
It is crucial that tenants, trade unions, councillors and MPs resist any further privatisation of council housing (organise against any stock transfers in your area) and demand a full public debate about housing priorities before any public land is sold off to developers.
See the DCH conference bulletin, Austin's statement, pre conference Labour grassroots ready to fight for security of tenure and post conference analysis from Party urged to hand freedoms to landlord councils and 24Dash and Inside Housing blog.