The government issued the 'draft subsidy determination' for 2009-10 on October 29 setting out the level of rent councils should charge and the allowances they will get back to spend on our homes. The robbery (difference between the rents tenants nationally pay and allowances councils receive) goes up by £248 million (an average per tenant from £926 this year to £995) to £1.83 billion in 2009/10. An increase of 7.4% and tenants will have to pay a massive 6.2% average rent increase!


Come to the DCH conference (Nov 25) to find out more and add your voice to the collective response we plan to make from the conference (see draft policy statement) and send your objection (consultation deadline 9 Dec).
Rents to go up by more than allowances
According to the letter the government sends to councils with the determination, there will be a "fixed average guideline rent increase of 6.2%" - based on inflation at 5% - while the increase in allowances will be much less: "Allowances for MRA [Major repairs allowance] have been uprated by the GDP deflator which currently stands at 2.75% for 2009-10."


Rent increases could have been up to 9% because of the high rate of inflation, but the government has decided to keep them down to 6.1% "to protect tenants from both high and variable increases in inflation" - meaning that the rent convergence policy, already in disarrary, is completely thrown out: "the rent convergence date will change depending on what the actual rate of inflation is in the September prior to the draft determination being issued. For 2009-10 using a fixed average guideline rent increase of 6.2% the convergence date has to be pushed back to 2024-25". The rent increase is still outrageously high; but it does show how big the risks would be for tenants if councils opt-out from the national housing revenue account and will no longer be protected from high rates of inflation.
Robbery to increase 7.4%
According to the schedules supplied with the determination, the increases in rent and allowances are different from those given in the letter - Rent 4.52%, MRA 3.49%, Management & Maintenance 3.37%.


It is wrong that we should receive below-inflation increases in allowances as this means a real-terms decrease. In other words, tenants will have to suffer both higher rents and cuts in services. The robbery - the difference between what we pay in rent and what we receive in allowances - is £995 per home, up 7.41% since last year (£926).
Protest against the robbery
We have until 9th December to protest against these outrageous proposals, which mean both unaffordable rent increases and a real-terms cut in the money for management, maintenance and major repairs. Get tenants organisations to formally object and lobby your council to insist that they stand up for tenants and protest too.


Send objection to: Victoria Akeredolu, Department for Communities and Local Government, Zone 1/A3, Eland House, Bressenden Place, London, SW1E 5DU or email: victoria.akeredolu@communities.gsi.gov.uk with subject heading of 'HRAS Consultation'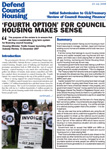 Politicians and housing professionals make out housing finance is very complicated but the principles for tenants are simple. Stop robbing council housing: all the money from our rents and capital receipts should be ring-fenced to manage, maintain, repair, improve and build new council housing (the 'Fourth Option'). Discrimination against council housing should end. We need a 'level playing field' so that council housing gets the same rights and access to gap funding, debt write-off and borrowing as other types of landlords.


In December 2007 Housing Minister Yvette Cooper announced a review of the current system with the commitment "to ensure that we have a sustainable, long term system for financing council housing".


This review is welcome, but is not reporting until 2009 with spending to be agreed in the next Comprehensive Spending Review.


DCH argues there has be interim measures to respect tenants' choice. We call for gap funding where tenants have voted for retention to improve their homes and estates, and an increase in Management & Maintenance Allowances (M&M) this year to support a moratorium on further privatisation while the review takes place.


The arguments are explained in more detail in our Dear Gordon 2 pamphlet and the initial submission to the government 'Review of Council Housing Finance'. DCH has also produced a spreadsheet modeling the Impact of fully funding allowances to make council housing sustainable.


There are links to supporting documentation with more details on the left, and press articles to the right.


See the CIH (Chartered Institute of Housing) website for review papers, 'narratives'and forum plus useful presentation from regional seminars (July/Aug).

"The fundamental problem facing council housing is insufficient resources to manage, maintain, repair and improve existing council homes and estates and to build new council housing.


If all the money that belongs to council housing (rental income and capital receipts) was ring-fenced and reinvested, and there was a level playing field on debt write-off, gap funding, borrowing and Social Housing Grant, council housing could pay its own way.


Successive governments have been taking a profit from council housing each year and then bullying and blackmailing tenants to accept privatisation. This is a disgrace!


The Treasury take from tenants rents and capital receipts far exceeds the allowances they give local authorities for management and maintenance (M&M) and major repairs (MRA) each year.


The recent 'justification' for some of this robbery is that tenants should support historic debt. But capital receipts from council housing have been enough to pay off this debt three times over; council tenants don't have a financial interest in the property; and government doesn't 'recover' money paid to home owners (Mortgage Interest Tax Relief) or Registered Social Landlords (Social Housing Grant) so why fleece council tenants to pay for an asset that remains in public ownership?


Continued discrimination against council housing and the lack of a 'level playing field' on debt write-off, gap funding, borrowing and Social Housing Grant cannot be justified.


It is not the principle of a national pooling system that is the problem. Council tenants are angry that government profits from council housing but we can also see how some politicians are using the old tactic of 'divide and rule' to try and break up a national council (public) housing sector.


We are suspicious that proposals for councils to 'opt out' of the national HRA would leave council housing in a more precarious situation and is a stalking horse for privatisation.


Government has to accept that M&M and MRA allowances must be funded at level of need and council housing put on a 'level playing field'.


Then local authorities would be able to plan ahead on the same basis as other landlords and council housing would provide first class secure housing, managed by an accountable landlord at rents people can afford for existing tenants and future generations on a sustainable basis and 'in perpetuity'."

Key organisations launched a My rent went to Whitehall position paper at the LGA conference on July 2 which endorses the key housing finance demands DCH and others have been making.


"This position paper sets out how the Local Government Association (LGA), London Councils, the Chartered Institute of Housing, CIPFA, the Councils with ALMOs Group (CWAG), the Association of Retained Council Housing (ARCH) and the National Federation of ALMOs (NFA) believe local authority housing finance should be changed."


It recognises "that the major repairs allowance is inadequate to cover costs of future major works. Management and maintenance allowances are also insufficient to sustain the stock and provide the services that tenants need..." and "local authorities to be able to maintain 100 per cent of capital receipts...", "the principle of a ring-fence extended to national level, with funds generated from HRA rents spent on improving council housing..." so that "councils and their tenants should have the same rights to self-determination as housing associations and their tenants and that they should have sufficient resources to enable them to manage their properties and their areas efficiently and effectively in perpetuity."


DCH is concerned that breaking up the national HRA system leaves tenants exposed to changes to interest rate, inflation and other risks and could make it easier to privatise homes and believe that requiring government to fully fund allowances to local authorities provides a more certain and less risky solution. We therefore welcome a clear commitment to ring fence resources for council housing and suggest that the mechanism for distributing these resources is looked at as a seperate issue.

Council Housing Debt Campaign
29/02/20
Guardian
14/10/14
24dash.com
22/11/11
Sheffield Star
12/10/11
Guardian
04/10/11
Inside Housing
02/10/11
24dash.com
02/10/11
CIH briefing
11/08/11
Inside Housing
29/07/11
Public Finance
18/07/11
Inside Housing
14/07/11
24dash.com
13/07/11
Inside Housing
25/06/11
Inside Housing
23/06/11
Inside Housing
20/06/11
Public Finance
17/06/11
Inside Housing
17/06/11
Inside Housing
27/05/11
Guardian Website
19/05/11
Inside Housing
14/04/11
Inside Housing
25/02/11
Inside Housing
18/02/11
Inside Housing
05/02/11
Inside Housing
03/02/11
Inside Housing
03/02/11
CLG
13/12/10
Inside Housing
13/12/10
CLG
22/11/10
The Mirror
13/11/10
Inside Housing
11/11/10
Guardian
30/10/10
CLG
20/10/10
24 Housing
15/10/10
Inside Housing
08/10/10
Evening Standard
30/06/10
National Audit Office press release
25/06/10
CLG
08/06/10
Inside Housing
14/05/10
Inside Housing
30/04/10
Inside Housing
16/04/10
Inside Housing
16/04/10
Inside Housing
01/04/10
Inside Housing
01/04/10
Inside Housing
01/04/10
Inside Housing
01/04/10
Inside Housing
29/03/10
The Guardian
26/03/10
Inside Housing
26/03/10
Inside Housing
25/03/10
Inside Housing
19/03/10
Inside Housing
05/03/10
Inside Housing
05/03/10
Inside Housing
02/03/10
Inside Housing
12/02/10
Inside Housing
05/02/10
Inside Housing
29/01/10
Inside Housing
29/01/10
Inside Housing
22/01/10
Inside Housing
22/01/10
Inside Housing
22/01/10
Inside Housing
22/01/10
Inside Housing
22/01/10
Inside Housing
15/01/10
Inside Housing
08/01/10
Inside Housing
08/01/10
Inside Housing
18/12/09
Inside Housing
11/12/09
Inside Housing
04/12/09
Inside Housing
20/11/09
Inside Housing
18/11/09
Inside Housing
13/11/09
Inside Housing
06/11/09
Inside Housing
06/11/09
Inside Housing
06/11/09
Inside Housing
02/11/09
Inside Housing
23/10/09
Inside Housing
21/10/09
Inside Housing
06/10/09
Inside Housing
23/09/09
Inside Housing
18/09/09
Public Finance
18/09/09
Inside Housing
11/09/09
Inside Housing
09/09/09
LGA
04/09/09
Public Finance
04/09/09
Inside Housing
21/08/09
The MJ
12/08/09
Inside Housing
07/08/09
Public Finance
06/08/09
Inside Housing
24/07/09
Inside Housing
24/07/09
Inside Housing
24/07/09
Inside Housing
22/07/09
Inside Housing
22/07/09
Inside Housing
22/07/09
CLG
21/07/09
Inside Housing
21/07/09
Inside Housing
17/07/09
Inside Housing
17/07/09
Inside Housing
17/07/09
Inside Housing
17/07/09
Inside Housing
10/07/09
Inside Housing
10/07/09
Inside Housing
10/07/09
Inside Housing
10/07/09
Inside Housing
03/07/09
Inside Housing
03/07/09
Public Finance
02/07/09
LGA
02/07/09
ARCH
01/07/09
DCLG
30/06/09
Guardian
30/06/09
Inside Housing
19/06/09
Inside Housing
16/06/09
The Mirror
16/06/09
Inside Housing
12/06/09
Inside Housing
10/06/09
The Guardian
10/06/09
Inside Housing
22/05/09
Guardian
18/05/09
Inside Housing
15/05/09
Inside Housing
08/05/09
Inside Housing
01/05/09
Inside Housing
23/04/09
Inside Housing
22/04/09
Inside Housing
20/04/09
Inside Housing
17/04/09
Inside Housing
03/04/09
Inside Housing
20/03/09
The Guardian
15/03/09
Cornish Guardian
04/03/09
Inside Housing
02/03/09
The Guardian
25/02/09
Public Finance
25/02/09
Public Finance
25/02/09
Inside Housing
20/02/09
Inside Housing
20/02/09
Inside Housing
20/02/09
Inside Housing
13/02/09
Inside Housing
13/02/09
Inside Housing
11/02/09
Inside Housing
06/02/09
Local Government Chronicle
05/02/09
Times
30/01/09
Public Finance
30/01/09
Inside Housing
30/01/09
Inside Housing
21/01/09
Guardian
21/01/09
Inside Housing
21/01/09
BBC
15/01/09
Inside Housing
09/01/09
Inside Housing
15/12/08
Unite @ctivist
27/11/08
24dash
24/11/08
Inside Housing
21/11/08
Inside Housing
21/11/08
Public Finance
14/11/08
Public Finance
07/11/08
Inside Housing
30/10/08
Inside Housing
23/09/08
Public Finance
12/09/08
Public Finance
12/09/08
Inside Housing
11/09/08
Inside Housing
11/09/08
Inside Housing
29/08/08
Daily Mirror
28/08/08
Daily Mirror
28/08/08
The Guardian
13/08/08
FT
09/08/08
Inside Housing
08/08/08
Inside Housing
01/08/08
Inside Housing
01/08/08
Inside Housing
01/08/08
Inside Housing
01/08/08
Inside Housing
01/08/08
Inside Housing
01/08/08
Inside Housing
25/07/08
Inside Housing
19/07/08
Inside Housing
11/07/08
Inside Housing
11/07/08
Compass
11/07/08
Inside Housing
04/07/08
Inside Housing
04/07/08
Public Finance
27/06/08
24dash
27/06/08
Inside Housing
20/06/08
Inside Housing
20/06/08
LGA Firstonline
18/06/08
Local Government News
17/06/08
Inside Housing
16/06/08
Guardian
04/06/08
Public Finance
30/05/08
24dash
21/05/08
BBC
16/05/08
Inside Housing
15/05/08
Inside Housing
15/05/08
Public Finance
09/05/08
Inside Housing
08/05/08
Inside Housing
18/04/08
Guardian
01/04/08
Inside Housing
21/03/08
Inside Housing
14/03/08
Public Finance
14/03/08
Inside Housing
14/03/08
Inside Housing
10/01/08
Inside Housing
10/01/08
Inside Housing
14/12/07
Inside Housing
07/12/07
Inside Housing
07/12/07
Inside Housing
30/11/07
Public Finance
23/11/07
Inside Housing
22/11/07
Inside Housing
16/11/07
24dash
22/05/06
Inside Housing
22/09/03
Inside Housing
31/10/02
Inside Housing
10/10/02